#006: Streets for coffee - Chatsworth Road
Some streets are great for coffee, some are not
Another Sunday, another newsletter about coffee. While I enjoy writing this newsletter, it does make me extremely conscious of the passing weeks. It's nearly October! I started writing this in August! Time flies when you're drinking good coffee.
Now, I'm running out of ways to tell you, the readers, that I have once again failed to complete my next coffee case study. I'm going to stop making promises and simply say that another case study, on Zimbabwe, will be coming in the near future. Please don't unsubscribe. Take your anger out on the share button below instead.
---
This week, I'm talking about streets as a part of a new mini-series within Three Quarters, imaginatively named Good streets for coffee. That name makes it sound like some well behaved streets have got together to start a campaign supporting coffee, but that's not what I mean.
I really like thinking about streets. Not as much as I like thinking about coffee, but streets are really important. We live on them, we work on them, we breathe in and on them, we walk up and down them. When councils and city authorities get them right, streets can be great public spaces to enjoy food and drink, socialise, exercise and take in some (hopefully) fresh air, in addition to using them to commute on foot, bike, bus or car.
The problem is lots of councils and city authorities, particularly in the U.K., don't get streets right. They approve dodgy planning applications in which developers prioritise density to ensure profits are maximised. The result of this approach is that flats and offices are enclosed within claustophobic trenches of concrete, with minimal communal space and unimaginative design. When combined with the chain outlets that tend to come with new developments, the streets they sit on lose their character, become homogenised and cease to be destinations for people to visit and spend time and a good space for local residents to live their lives.
WHAT DOES THIS HAVE TO DO WITH COFFEE? Well, I'm taking the view that good coffee shops are often coupled with good streets. It's natural for coffee shop owners to want to base their businesses in areas where people want to go. Good streets create destinations. Streets that are destinations drive footfall to local businesses. On this basis, I wanted to start a list of 'Good streets for coffee', streets which have maybe two or more coffee spots that are also good places to visit. I've started a spreadsheet to do just that. It only has one street name on it currently, Chatsworth Road in Hackney, London. I took a walk down there earlier, had my hair cut and then went to find some coffee. Take a look.
---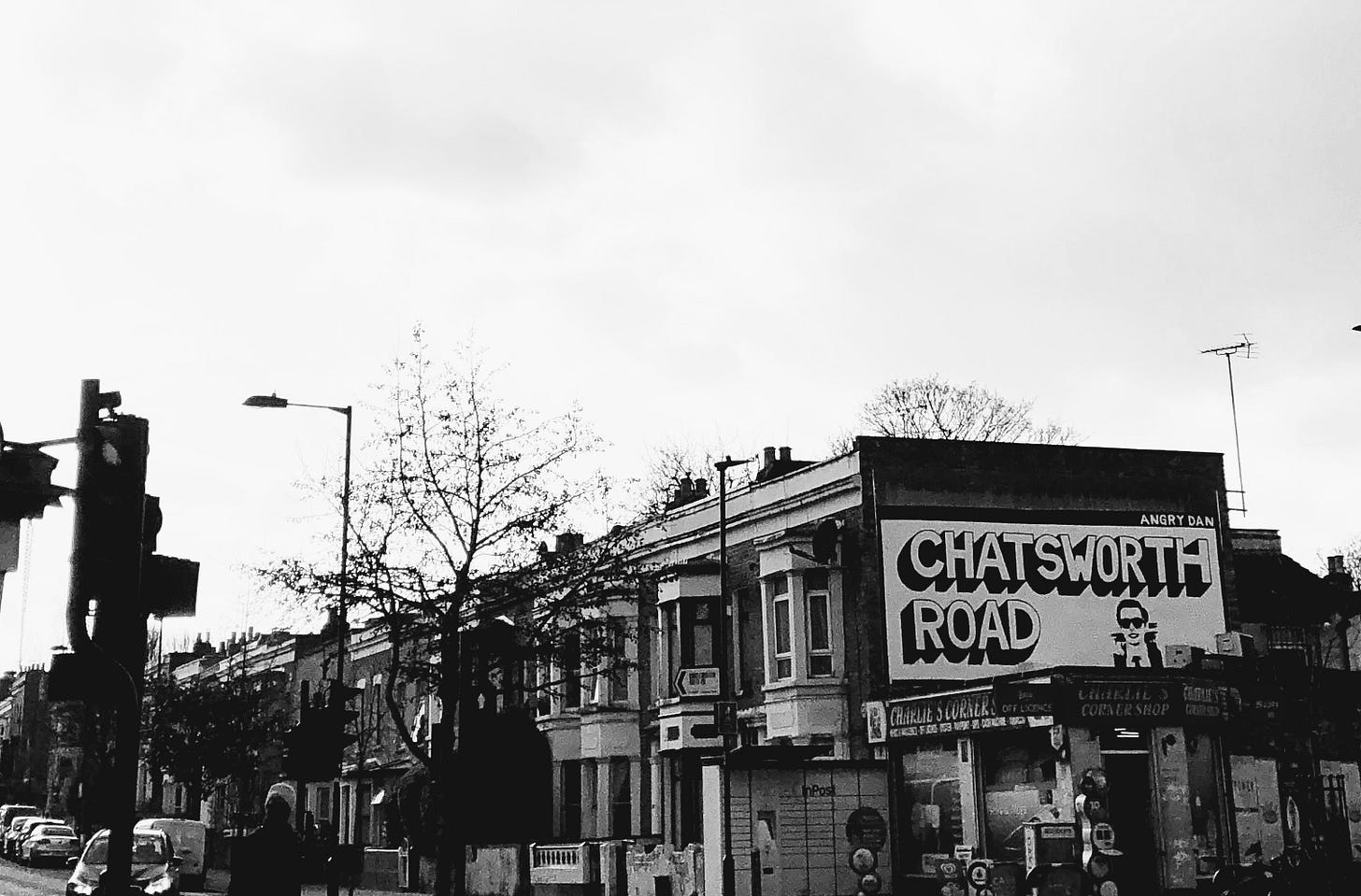 Chatsworth Road, Hackney, London
Chatsworth Road is a main shopping street running through Lower Clapton, a district within the London Borough of Hackney. For a long time, I've mainly associated the road with pain and exhaustion as its a fixture of my running route. But ever since I discovered a good barber on the road, I've returned to Chatsworth Road at least twice a month for a tidy up, followed by coffee at one of the various spots.
This morning, after an early trim, I wondered down the road and through the weekly market. It has that classic Sunday morning feel of people that have had a gentle wake up and have now popped out to wonder through the market, buy a loaf of bread and grab a coffee before meandering home. Whether you want to sit in for a brew or takeaway and have it double as a handwarmer, you're spoilt for choice on Chatsworth Road. Having a road with multiple spots to sit and read with a coffee or meet a friend is perfect, particularly as coffee shops have to restrict their capacity during the pandemic. On Chatsworth Road, there's always another great place you can try.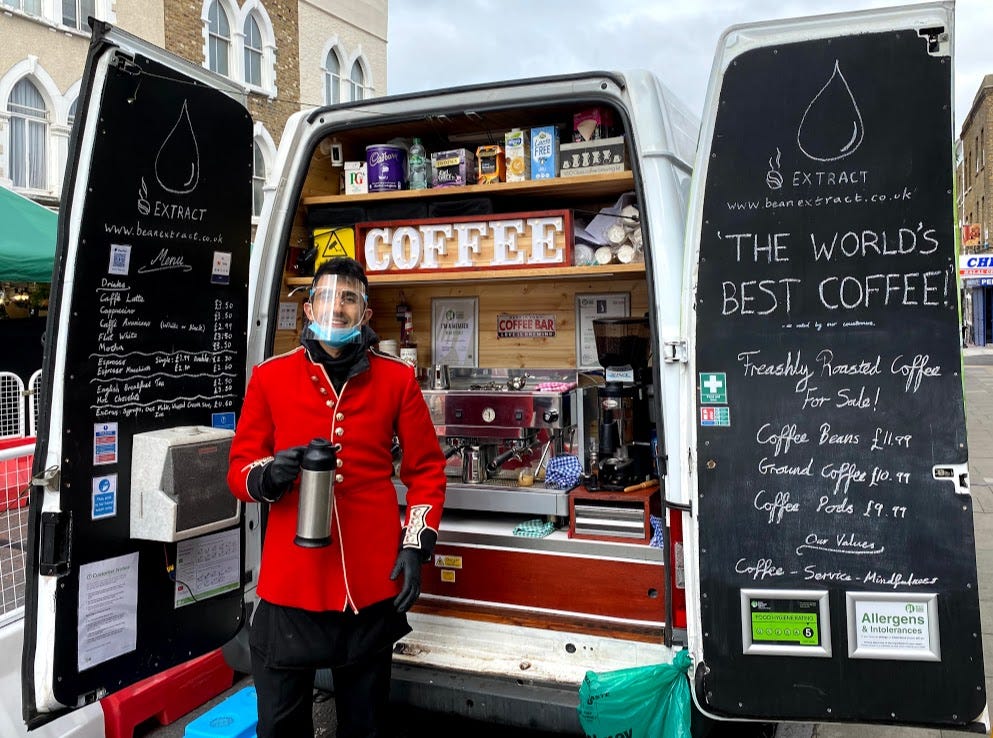 The first stop I came across was Bean Extract, run by Ata out the back of his Transit. It's the first time I've heard a 'roll up, roll up' type call from a market stall selling coffee. He was rivalling the nearby fruit and veg stalls. Ata roasts the coffee himself and deducts the cost of the coffee you bought on the day from any bag you buy. I had the Brazilian blend as an oat milk cappuccino - a good cup! It did serve as a handwarmer too given it was practically arctic this morning.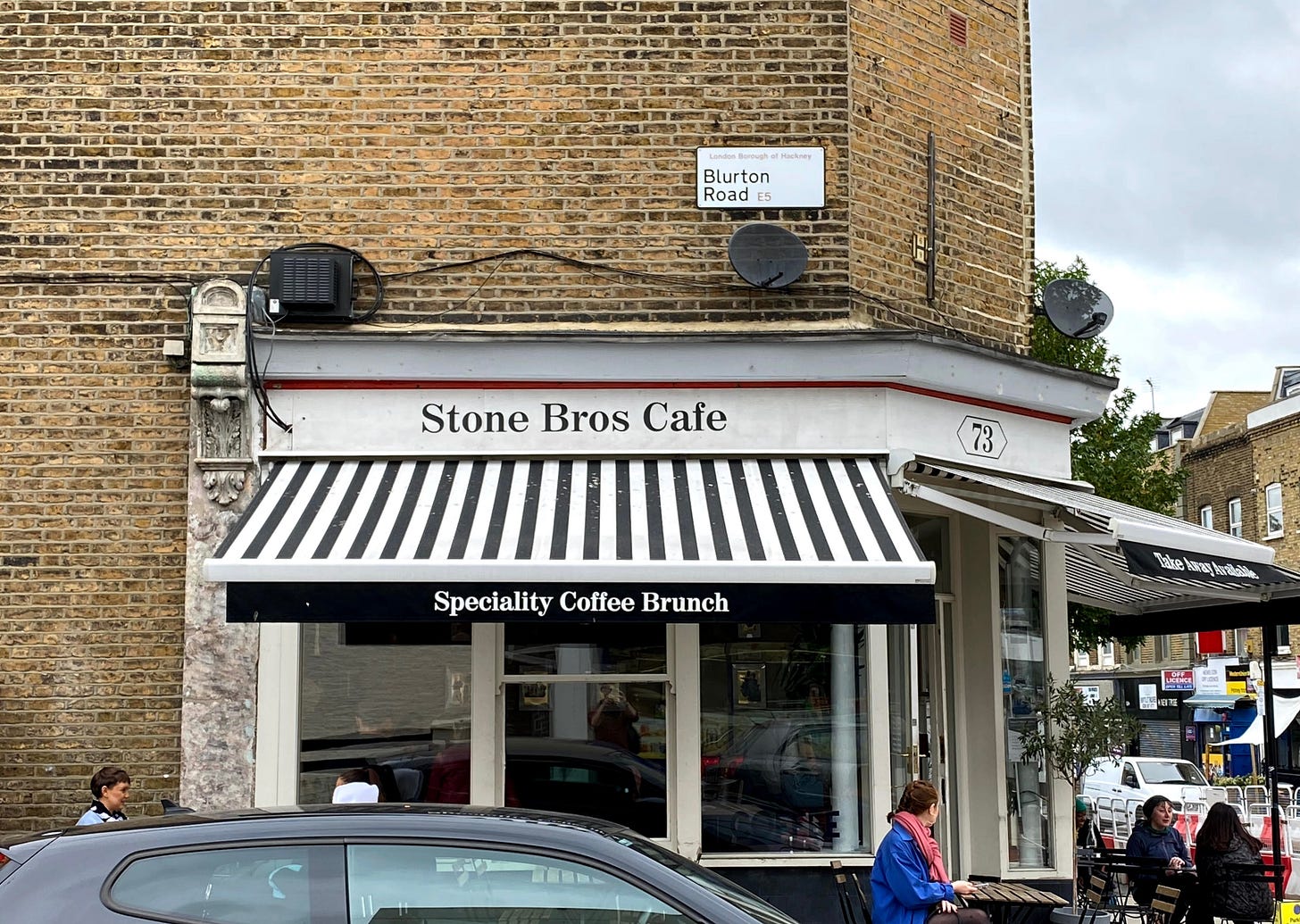 I already knew I would be making a beeline for Stone Bros, post-haircut. It's one of those brunch spots you return to again and again. As it happened, I eventually got inside the cafe on my second loop around the market, such is it's popularity, particularly on market days. If it had been a bit warmer, I would have joined those braving the cold and sat on one of their outside tables to get the full market street experience, but I was literally shivering and so opted for indoors. Not only do Stone Bros serve excellent coffee, their brunch menu is genuinely something to look forward to, with options to suit those with all dietary requests. I had a veggie breakfast and they *do not skimp* on portion sizes. Halloumi, mushrooms, avocado, beans and two poached eggs with toast, plus a flat white. Truly glorious.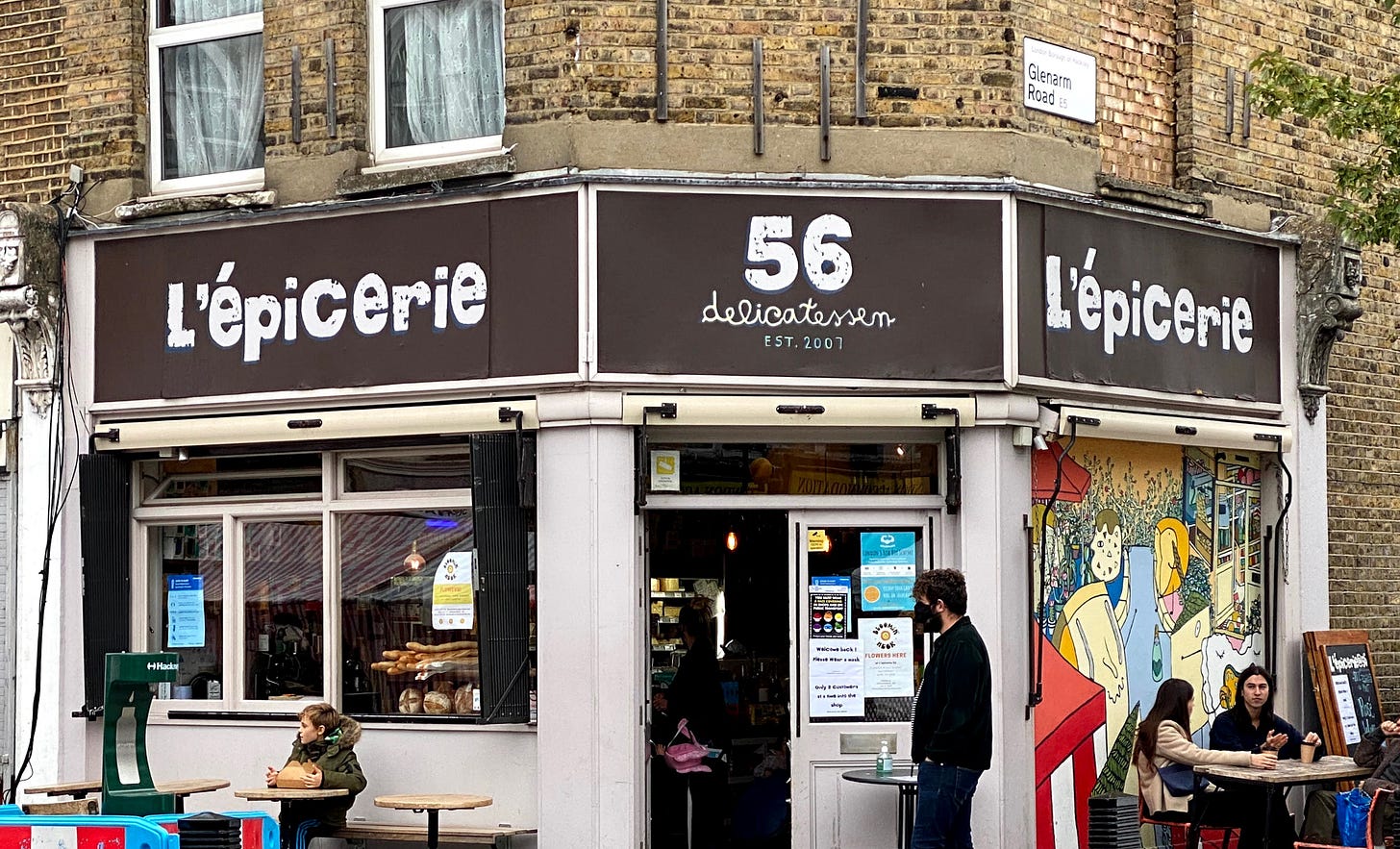 Post-brunch, I wasn't quite ready for another coffee when I reached L'Epicerie. But I can vouch for the coffee from past visits. The outside tables were perfect through the hot August when they also served ice cream and iced coffee from their hatch window. Also a big fan of the mural.
Honourable mentions
I didn't have time to do a full tour of all of the various cafes and coffee shops so I wanted to mention a few others that you should definitely drop in to. Millfields Coffee looks out into the park of the same name and is as comfortable and friendly in the summer as it is cosy in the winter. 46b Espresso Hut is not technically on Chatsworth Road but you'll find yourself walking past it as you walk south towards Homerton station.
---
The Fourth Quarter
In this final section of the newsletter, I share one non-coffee related link that you might enjoy too. This week, I read an old article by Wait But Why on how to think about history horizontally in order to better understand the context of events or the flow of history in your mind. It's a long read, but you can scroll to the bottom for some cool diagrams of the process in practice if you don't want to read it all.
---
That's all for this week - thanks for reading. As ever, please do give the newsletter a share with anyone who you feel might enjoy it or like to contribute. I'm especially interested to hear any of your Good streets for coffee suggestions and also any better names for this series. Let me know!