#001: It's Sunday morning and I've written a newsletter
I have birthed Three Quarters Coffee, the newsletter
I've scheduled this to send pretty early here in the U.K. and so you may be reading this from your phone, squinting at your screen as you've only just woken up, or maybe you're out of bed and have a hot cup of coffee already on the go. Or maybe it's Monday morning as you read this as you managed to dodge your emails yesterday.
Regardless, I'm pleased you're here and I hope you're having a good day so far.
So what's the deal?
It's likely that if you have received this, it means you're already relatively sold on it appearing in your inbox. Either that or you're related to me and you have given in to my demands that you sign up.
You might have already read my introductory post, but still, I want to spend a brief moment to reiterate what you can expect from this newsletter. Firstly, it will arrive every Sunday morning, UK time, barring some kind of emergency. Secondly, it will endeavour to enlighten both you and me about our subject, coffee. I'm not a coffee expert, I'm not a coffee roaster, I'm not a barista. I'm a coffee drinker. I'm a coffee shop sitter. I'm still learning more about the coffee I drink each morning, where it comes from and who is involved in the process from plant to cup. I want to share my opinions and what I already know about coffee culture, but also keep learning and sharing that learning with you. I also want to hear your views on the topics I cover by leaving a comment using the button below, or by emailing me.
---
A weird and worrying time for the coffee industry
Yes, it goes without saying - the COVID-19 pandemic has had a profound effect on the coffee industry. While many coffee shops have found a way to continue as take away outlets through the pandemic, others have been left without footfall as workers have poured out of cities into the suburbs. Independent coffee roasters like Coleman, based near Waterloo in London, U.K., have operated without an online shop, instead relying on orders from their loyal customer base, in-person or by email. They began a local delivery service in late March, just as the lockdown began to take hold in London and have continued to take orders via direct message on Facebook and Instagram. They have pulled through the pandemic and reopened their main store with reduced hours in June.
Wholesale coffee roasters, who have generally experienced downturns to their bulk sale trade, have seen an uptick in direct sales to coffee drinkers who are working from home and without their usual caffeine fix. Coffee shops may have been closed and therefore not ordering coffee by the sack load, but individual consumers ordering from home have filled the gaps in some places. In this sense, the pandemic has uncovered new opportunities for the industry and has underlined the need for effective e-commerce strategies.
Since June, as cities have begun to reopen with new hygiene measures in place, coffee shops have too. A couple of my favourites, Vagabond N7 on Holloway Road in North London and Pallets in Beaulieu, Hampshire, have reopened and it's glorious to just be sat in a coffee shop again, even with socially distanced tables and baristas behind acrylic screens.
I'd love to know which coffee shop you chose for your first coffee out after lockdown - leave a comment!
---
Under-representation in the coffee industry
I want to draw attention to this resource pulled together by Caffeine Magazine detailing some of the UK's coffee businesses that are owned by Black people. When Caffeine shared this on their social media, some questioned what value it really had or why anyone should be defining these businesses in this way. This isn't a simple topic, but what is clear to see is that Black people are under-represented in British society and are even more under-represented in the coffee industry. 
This skewing of the coffee industry towards white business owners and white consumers can also be seen in how the whole coffee supply chain is portrayed and perceived. The majority of the world's coffee is grown and harvested in the global south where 80% is grown by smallholder farmers. Coffee then passes to processors and traders before reaching roasters, retailers and ultimately, the consumer. Many smallholder farmers are vulnerable to fluctuations in global coffee prices and domestic demand for coffee. The Fairtrade Foundation has done incredible work to support smallholder farmers and ensure they receive fair prices for their produce, but while advances have been made drawing attention to supply chain in other parts of the UK's food and drink industry (beef, eggs and milk, for example), coffee farmers remain largely absent from final product marketing.
Through this newsletter, I hope to focus more on underrepresented elements of the coffee supply chain, starting next week, with a case study from Ethiopia.
Learn more: Fairtrade Foundation: About coffee
---
What I'm drinking AND where I'm writing from
Going forward, I will write about the coffee I'm drinking and where I'm writing this newsletter from in two separate sections, but this week, they're fairly well linked. I'm writing this final section from my tent at a campsite near to Stonehenge.
The optimum coffee set up for a weekend (or longer) camping is a contentious topic. If you're backpacking, the choice is made a little easier by the need for your bag to be as light as possible. If you're travelling to a campsite by car and pitching up, you're options open up immediately. You might have room for a full Chemex set up, complete with swan neck kettle and scales or maybe a Mokka pot. But for me, you only need two things: an AeroPress and a reusuable filter disc from Cafe Concetto. It's not a groundbreaking suggestion - the AeroPress has been around for years and remains a simple invention that doesn't force you to compromise on taste in return for a speedy brew. The reusable disc saves you having to bring a stack of filter papers along. I'm planning a deeper dive into the AeroPress in this newsletter, but for now I'm just making sure you're aware of my allegiance to the AeroPress, especially when camping.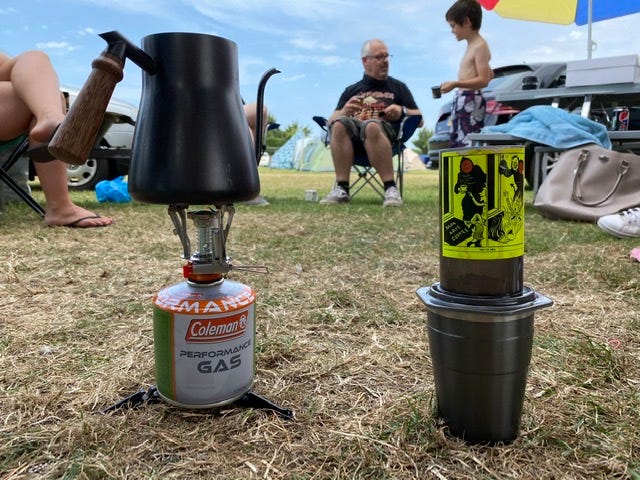 Being brewed in the AeroPress this weekend is the excellent Sao Silvestre from Bailies Coffee Roasters in Belfast, Northern Ireland. Once ground medium-fine, it brews perfectly in the AeroPress which sits nicely on my thermal KeepCup - perfect for camping! As I'm a little bit extra, I brought my swan neck kettle with me, although your standard kettle is obviously fine to use with the AeroPress. Also, check out Bailies' beautiful coffee bags!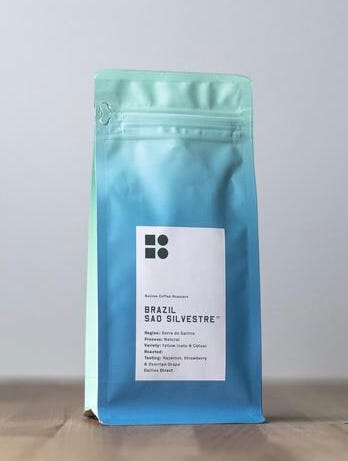 ---
That's all for Three Quarters Coffee this week. Thanks so much for taking the time to read and if you did like it, consider sharing it with someone else who might enjoy it!
---