Coffee production is returning to Zimbabwe. Here's how
A pioneering project led by NGO TechnoServe with Nespresso is leading the way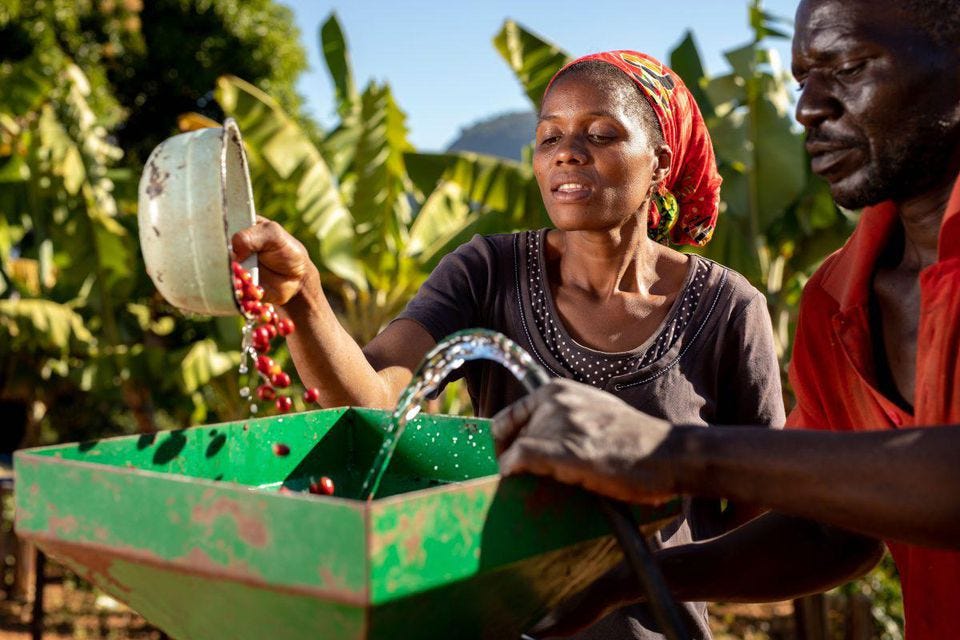 Zimbabwe's coffee production in 1980: 15,000 tonnes

Zimbabwe's coffee production in 2017: 500 tonnes
What happened in Zimbabwe in the years between 1980 and 2017 has been subject to plenty of analysis. In short, following full independence from the United Kingdom and the imposition of majority Black rule in the country in 1980, there was upheaval, there was infighting, there was violence and there was reform. To this day, the impact of brutal colonialism, subsequent decolonisation and instability continue to be felt in the country.
As you can see from the figures listed above, Zimbabwe's coffee industry was not impervious to these developments. Coffee production collapsed as crucial coffee production knowledge and skills were left siloed in colonial structures and were not cascaded to farmers who would become responsible for growing and harvesting the crop going forward. Owing to this knowledge deficit, many crops grown were of low quality and lead to little financial return. Farmers were said to have gradually abandoned growing coffee for this reason and shifted their attention to bananas, tobacco and nuts.
Since 2017, the 450 smallholder farmers and two coffee estates that remain in Zimbabwe have been working with the NGO TechnoServe and Nespresso to improve the quality of their coffee and the productivity of their farms.
This work is a part of the Reviving Origins programme led by Nespresso to support coffee-growing regions that are under threat due to political and economic instability or natural disaster. Since 2011, work has also taken place in cooperation with farmers to reinvigorate coffee growing in Colombia, Puerto Rico, South Sudan and Uganda.
The majority of coffee production in Zimbabwe takes place in and around the Honde Valley, around 80km north of the city of Mutare. Working with TechnoServe, Nespresso has provided training in sustainable growing practices while seven agronomists (experts in soil management) also work with farmers to refine their exisiting skills including cutting, pruning and spraying. In addition, farmers are supported with other key skills including record and book keeping to further underpin the sustainability of their farms and set them in good stead for the future. The initiative is also a part of the wider AAA Sustainable Quality programme, launched in 2003 with the Rainforest Alliance, to improve the yield and quality of harvests while ensuring practices are sustainable and responsible.
Since the beginning of this work in Zimbabwe, high quality coffee production has grown by 9%.
TAMUKA MU ZIMBABWE – "AWAKENING OF ZIMBABWE"

The name of the coffee sold by Nespresso from Zimbabwean crops, described by them as 'a flowery espresso from the Honde Valley with complex fruitiness and zesty bright acidity, with notes ranging.'
I spoke to Claudia Afonso at Nespresso to learn more about the work in Zimbabwe and how it has been affected by the COVID-19 pandemic.
Why was Zimbabwe chosen to be a part of the programme?
Preserving exquisite coffees from adverse circumstances such as conflict, economic or environmental disaster and ensuring a future for the farmers who produce them is a critical part of our business. We continue to seek out farming communities that can benefit from our support to revive coffee in areas where it has a history of quality, but is currently in danger of disappearing. This is the case of the coffee communities of the Manicaland region of Zimbabwe where coffee was in danger of disappearing due to economic and political instability.
How has the programme been affected by the COVID-19 pandemic?
In Zimbabwe, the government implemented a general lockdown until 3rd May. However shops, gas stations and other essential services remained open. The National Employment Council for the Agriculture Industry classified the agricultural sector as essential so farming has still taken place. Due to the lockdown, AAA trainings and farm visits have been suspended but AAA agronomists have remained in close contact with farmers by phone and messaging to support and guide them on coffee farming best practices prior to the June harvest.
You can learn more about the Reviving Origins programme, including the future of the work in Zimbabwe, on TechnoServe's website.
Top photo: Coffee farmers in Zimbabwe's Honde Valley (Credit: Nespresso)